Even though life exists in 3D, until the beginning of this century, most electron microscopy methods provided only 2D image data. Thanks to recent advances, electron microscopy can now go deeper into the structure of cells and tissues. Volume electron microscopy (vEM) is a group of techniques that encompasses high-resolution imaging methods used to reveal the 3D structure of cells, tissues, and small model organisms at nanometer resolution. Lately, vEM has been widely employed to investigate cell structure and tissues in multiple fields, such as neuroscience immunology, cancer research, developmental biology, plant biology, and biomaterials.
Through this article collection, we hope to provide researchers with more information on the application of volume electron microscopy techniques, allowing them to further their research in this field.
Download this complimentary article collection today!
What you will learn:
Which techniques belong to volume electron microscopy.
How to apply different vEM techniques in different research fields in the life sciences.
What you can achieve by using vEM techniques to analyze cell structure and tissues.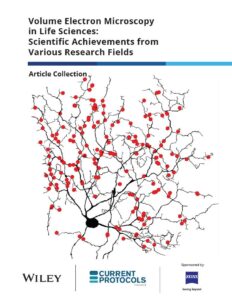 Articles contained in the collection:
An ultrastructural connectomic analysis of a higher-order thalamocortical circuit in the mouse. By Sampathkumar, V., Miller-Hansen, A., Murray Sherman, S., et al., (2020), European Journal of Neuroscience.
Three-dimensional reconstructions of mouse circumvallate taste buds using serial blockface scanning electron microscopy: I. Cell types and the apical region of the taste bud. By Yang, R., Dzowo, Y.K., Wilson, C.E., et al., (2020), Journal of Comparative Neurology.
The sensory peripheral nervous system in the tail of acephalochordate studied by serial blockface scanning electron microscopy. By Holland, N.D., Somorjai, I.M.L., (2020), Journal of Comparative Neurology.
Synaptic inputs to broad thorny ganglion cells in macaque retina. By Bordt, A.S., Patterson, S.S., Girresch, R.J., et al., (2021), Journal of Comparative Neurology.
Subcellular architecture and metabolic connection in the planktonic photosymbiosis between Collodaria
(radiolarians) and their microalgae. By Decelle, J., Veronesi, G., LeKieffre, C., et al., (2021), Environmental Microbiology.
Superiority of focused ion beam-scanning electron microscope tomography of cardiomyocytes over standard 2D analyses highlighted by unmasking mitochondrial heterogeneity. By Heinen-Weiler, J., Hasenberg, M., Heisler, M., et al., (2021), Journal of Cachexia, Sarcopenia and Muscle.
Correlative light and volume electron microscopy (vCLEM): How community participation can advance developing technologies. By Guerin, C., Lippens, S., (2021), Journal of Microscopy.