The immune system has emerged as a key player in the direction of cancer progression, displaying both pro- and antitumor capabilities as well as the capacity to be leveraged for treatment. To fully tease apart the interaction of immune cells within tumor microenvironments, researchers need to be able to clearly identify the presence and state of immune subpopulations. Conventional flow cytometry has been a mainstay of immunophenotyping for decades. Spectral flow cytometry, a relatively new approach to fluorescence cytometry, is also being used for immunophenotyping studies. However, both approaches suffer in the number of cell markers that can be incorporated into a single panel due to issues of emission spectra overlap. Mass cytometry or cytometry by time-of-flight mass spectroscopy (used in CyTOF® instruments) has emerged as a critical tool in the identification and monitoring of immune cells in the research and clinical spaces, with the ability to precisely identify 50 or more cellular markers with negligible overlap in detection.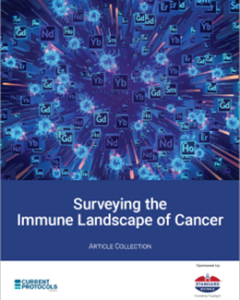 By introducing readers to the advantages of flow cytometry by CyTOF, we hope to educate researchers on the use of CyTOF instrumentation and technology for immunological studies and monitoring of clinical research studies aimed at determining the efficacy of therapeutic interventions.
What you will learn:
Principles of flow cytometry by CyTOF
How CyTOF can be utilized for deep immunophenotyping
Examples of mass cytometry for monitoring therapeutic interventions
Articles contained in the collection:
Pisano, S. et al. (2021). Assessment of the immune landscapes of advanced ovarian cancer in an optimized in vivo model. Clinical and Translational Medicine.
Eiva, M.A. et al. (2022). Systematic analysis of CD39, CD103, CD137, and PD-1 as biomarkers for naturally occurring tumor antigen-specific TILs. European Journal of Immunology.
Wang, J. et al. (2020). Identification of the immune checkpoint signature of multiple myeloma using mass cytometry-based single-cell analysis. Clinical and Translational Immunology.
Saxena, K. et al. (2021). A phase 1b/2 study of azacitidine with PD-L1 antibody avelumab in relapsed/refractory acute myeloid leukemia. Cancer.
CyTOF XT™: The Next Generation of Mass Cytometry. Standard BioTools Application Note.
Bagwell, C.B. et al. (2020). Multi-site reproducibility of a human immunophenotyping assay in whole blood and peripheral blood mononuclear cells preparations using CyTOF technology coupled with Maxpar® Pathsetter™, an automated data analysis system. Cytometry.
Corneau, A. et al. (2021). Mass cytometry: a robust platform for the comprehensive immunomonitoring of CAR-T-cell therapies. British Journal of Haematology.
For Research Use Only. Not for use in diagnostic procedures.