Cancer is one of the leading causes of death worldwide. Despite incredible breakthroughs in cancer medicine, the number of cancer patients is still expected to rise in the upcoming decades. This prediction is attributed to various factors such as growth and aging of the population as well as certain lifestyle behaviors. With the projected increase in cases, there is a pressing need to develop novel, effective therapeutics.
One of the most powerful technologies used in basic cancer research is confocal microscopy. Confocal microscopy offers several advantages over conventional microscopy, such as:
low background noise
the ability to control the depth of field
and the capability to collect optical sections from thick specimens
With the relative ease of obtaining high-quality images from specimens prepared for conventional fluorescence microscopy, the popularity and use of confocal microscopy for cancer and biomedical research has grown extensively in recent years.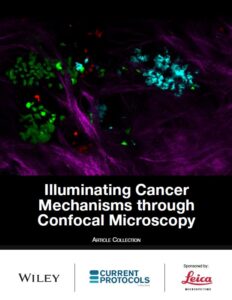 In this article collection, we highlight seven recent publications that utilize confocal microscopy to elucidate important mechanisms of cancer:
Cell-permeable CaaX-peptides affect K-Ras downstream signaling and promote cell death in cancer cells. By Klimpel, A., Stillger, K., Wiederstein, J.L., et al., (2021), The FEBS Journal.
Fundamental control of grade-specific colorectal cancer morphology by Src regulation of ezrincentrosome engagement. By Rainey, L., Deevi, R.K., McClements, J., et al., (2020), Journal of Pathology.
Impact of the Nuclear Envelope on Malignant Transformation, Motility, and Survival of Lung Cancer Cells. By Stefanello, S. T., Luchtefeld, I., Liashkovich, I., et al., (2021), Advanced Science.
3D-Engineered Scaffolds to Study Microtubes and Localization of Epidermal Growth Factor Receptor in Patient-Derived Glioma Cells. By Barin, N., Balcioglu, H. E., de Heer, I., et al., (2022), Small Journal.
Dynamically Crosslinked Poly(ethylene-glycol) Hydrogels Reveal a Critical Role of Viscoelasticity in Modulating Glioblastoma Fates and Drug Responses in 3D. By Sinha, S., Ayushman, M., Tong, X., Yang, F., (2022), Advanced Healthcare Materials.
Pericyte-secreted IGF2 promotes breast cancer brain metastasis formation. By Molnár, K., Mészáros, Á., Fazakas, C., et al., (2020), Molecular Oncology.
On-chip determination of tissue-specific metastatic potential of breast cancer cells. By Firatligil-Yildirir, B., Bati-Ayaz, G., Tahmaz, I., et al., (2021), Biotechnology and Bioengineering.
Through the studies presented in this article collection, we hope to illustrate the utility of confocal microscopy in mechanistic cancer research.