The SARS-CoV-2 pandemic has created numerous challenges in the clinical and research communities. Particularly impacted are the operation of shared resource facilities, which provide valuable experimental services and analytical expertise to their users. Adapting to this new operational environment requires the creation of new operating procedures to safely manage the exposure of facility personnel to infectious disease-bearing samples. Through collaborative effort, shared resources facilities are leading the creation of operational guidelines to continue their contribution to research and diagnostics for SARS-CoV-2.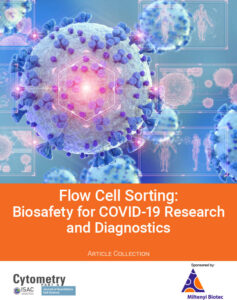 This article collection highlights guidelines and protocols for the operation of shared resource facilities and the processing of infectious samples. By presenting this article collection, we hope to provide a knowledge source for shared resources laboratories charged with processing SARS-CoV-2 samples in either a research or clinical setting.
What you will learn:
Operational guidelines during infectious disease outbreaks
Minimization of risk to facility personnel and users to SARS-CoV-2
Biosafety measures for the handling of infectious disease-bearing samples
Protocols to minimize exposure risk to personnel
Articles contained in the collection:
Aspland, A.M. et al. (2021). Biosafety during a pandemic: shared resource laboratories rise to the challenge. Cytometry.
Chattopadhyay, P.K. et al. (2021). A cytometrist's guide to coordinating and performing effective COVID-19 research. Cytometry.
Aspland, A. et al. (2021). Risk awareness during operation of analytical flow cytometers and implications throughout the COVID-19 pandemic. Cytometry.
Cossarizza, A. et al. (2020). Handling and processing of blood specimens from patients with COVID-19 for safe studies on cell phenotype and cytokine storm. Cytometry.
Reifel, K.M. et al. (2020). Procedures for flow cytometry-based sorting of unfixed severe acute respiratory syndrome coronavirus 2 (SARS-CoV-2) infected cells and other infectious agents. Cytometry.
This article collection is sponsored by Miltenyi Biotec